Written by Rob Snell
Monday, 29 April 2013
The Boxing Biographies Newsletter
Volume 9 – No 2 29 April , 2013
If you wish to sign up for the newsletters ( which includes the images ) please email the message "NEWS LETTER" This email address is being protected from spam bots, you need Javascript enabled to view it
Primo Carnera

http://www.keepandshare.com/doc/6233782/boxing-biographies-newsletter-vol-9-no-2-pdf-1-0-meg?da=y
Write Comment (0 Comments)
Written by Rob Snell
Wednesday, 10 April 2013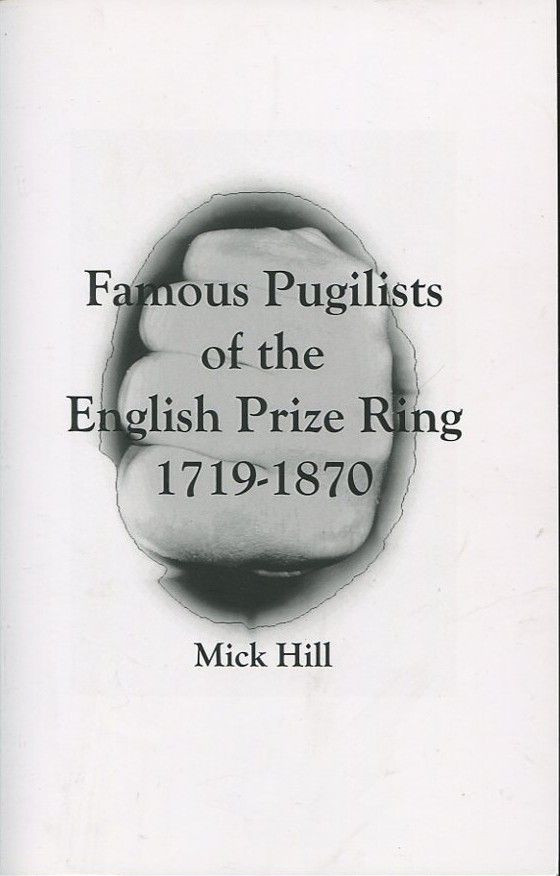 Mick Hill has recently produced a worthy book on the English Prize Ring. For those of you that don't know Mick, he has long held an interest in boxing, and in particular, the days of bare-knuckle fighting. Mick has produced a 200-page book on the prominent boxers of the eighteenth and nineteenth centuries and he has ensured that many of the lesser-known names of this period are included, in the form of mini-biographies.
There are nearly 80 pugilists featured within the book and some of them will be new to even the most fervent follower of boxing during the bare-knuckle age. Two of the first three names included within the book, for instance, are Tom Pipes and Bill Gretting, and it is a welcome change to see the stories of men such as these recorded.
As well as producing a page on each boxer which describes their achievements Mick has also taken the trouble to produce their fighting record and virtually all of them also have an illustration. Another welcome addition is the inclusion of the nickname, and so many of these boxers were well-known by their nickname. As an example, the exploits of Jeremy Massey aka "The Stunted Lifeguardsman" can be followed on page 184 and, as well as the biographical details relating to his career, which are spread across two pages, one call also see full details of his fight record. 18 contests are listed for the period between 1842 and 1856 and one will find that Massey was once proclaimed the "Best in the land at Featherweight".
It is a nice little book and would be a welcome addition to the bookshelves of a boxing bibliophile. The price is £13.99.
To purchase a copy please order from www.fastprint.net/bookshop or Amazon. On Amazon
http://www.amazon.co.uk/Famous-Pugilists-English-Prize-Ri/dp/178035505X/ref=sr_1_25?s=books&ie=UTF8&qid=1365594385&sr=1-25&keywords=bareknuckle+boxing
Or to contact Mick direct please email This email address is being protected from spam bots, you need Javascript enabled to view it
Write Comment (0 Comments)
Read more...
Written by Rob Snell
Thursday, 11 October 2012
Special price Offer
I am currently selling the book 'Hitting and Stopping, How I Won 100 Fights' by Jimmy Wilde, in agreement with his family, although I intend on putting together a website at some point in the future, the book is currently available via amazon.co.uk at the following web address :
http://www.amazon.co.uk/gp/product/0957034210?ie=UTF8&seller=A114YU7633MROW&sn=Peerless Press
As I have to sell the book myself in order to cover the costs, I am hoping to increase sales through offering the book directly to any interested customers. For this reason I want to do an offer to readers of your website if this is acceptable to you. I will be offering the book for £12.99 with free postage to anywhere in the UK, and accept payment by cheque or by paypal. Should any readers be interested they can contact me directly at

This email address is being protected from spam bots, you need Javascript enabled to view it

I ship worldwide, but it is probably best for customers outside the UK to contact me directly for shipping costs, as it is so expensive now I can't really offer international postage for free.
HITTING AND STOPPING - HOW I WON 100 FIGHTS
By Jimmy Wilde

BOOK REVIEW
by Tracy Callis - International Boxing Research Organisation

This book, HITTING AND STOPPING- HOW I WON 100 FIGHTS, about the fabulous flyweight champion, Jimmy Wilde, is an interesting and informative read. It has chapters written by the champ himself revealing his views and secrets of fisticuffs in the roped square. There are two major parts. The first has a preface, a very descriptive (wonderfully informative) introduction by Lawrence Davies, who edited the work, and the four chapters by Jimmy Wilde that entail 98 pages. The chapters are entitled Get In And Get Away, On Hitting, On Stopping, On Damaged Hands And Back Hand Punches.

After this is an Addendum that contains two works written by Jimmy that are named The Secret Of My Success and My Greatest Battle. Also, there is an article, How Wilde Developed His Skill, by Jim Driscoll and a work named Tales Of The Tylorstown Terror by Charles Barnett, a Welsh referee who officiated over many of Wilde's contests. Then, there is a brief section with Expert Opinions on Jimmy Wilde as a fighter. The men expressing their views of Jimmy as a fighter are Harold Alderman, J.G.H. Lynch, Fred Dartnell, Ted Lewis, Trevor Wignall, A.F. Bettinson and B. Bettinson, Charlie Rose, Denzil Batchelor, Viscount Knebworth, Eugene Corri, James Butler, Gilbert Odd, Norman Clark and Reg Gutteridge. This is a most knowledgeable collection of historians and boxing men evaluating one fighting man, but what a fighting man ! Jimmy's physical measurements follow this and then the career ring record of the man most often ranked as the greatest flyweight in boxing history is included at the end.

The book is easy reading with conversations, fight talk, boxing philosophy, fighting tips and instruction along with illustrated fight positions in rare photos of Jimmy.
All boxing fans know about the hitting prowess of Wilde. The amazing thing is just how he mustered the blasting technique with such a thin and non-muscular body. Nat Fleischer called him the #1 Flyweight in boxing history. Mike Casey, that splendid boxing historian and writer also identified Jimmy as the greatest flyweight in history. Gene Tunney called him "the greatest fighter I ever saw" and The Ring rated him as the #3 greatest puncher of all time.

Lawrence Davies is a Welsh boxing historian and author of the book 'Mountain Fighters, Lost Tales of Welsh Boxing' (Peerless Press, 2011), which explores the history and origins of the bare knuckle prize ring in Wales.
Here is a preliminary blurb :

For the first time in over half a century, Hitting and Stopping, the first book written by Jimmy Wilde, Flyweight Champion of the World has been re-published as a new, updated and expanded official edition :

'Jimmy Wilde was one of the greatest fighters the world has ever seen. He fought hundreds of times on the fairground boxing booths while still in his teens, often battling opponents nearly twice his size. Wilde went on to win his first 100 professional fights, most by way of knockout and defeated much larger men throughout his professional career. By 1916, Jimmy Wilde was universally acknowledged as the Flyweight Champion of the World, and held the title until 1923.

Wilde's devastating punching power was such that he is regarded by The Ring magazine as being the third greatest puncher of all time. Boxing historian Nat Fleischer rated him as the No. 1 Flyweight in boxing history.

Jimmy Wilde was inducted into the International Boxing Hall of Fame in 1990 and is today celebrated as one of the most gifted fighters to have stepped into the boxing ring. First published in 1914, Hitting and Stopping reveals the combative insights of a true boxing master. Jimmy Wilde explains the unorthodox methods and strategies that enabled him to emerge victorious on hundreds of occasions. Illustrated by many rare instructional photographs of Wilde demonstrating his techniques, this book is a must for any sports historian or boxing student hoping to understand the life and career of a man who was called 'The Ghost with a Hammer in his Hand' due to his devastating punch and his uncanny skills in evading his opponents.This new official edition of Hitting and Stopping How I Won 100 Fights contains further additional written material and commentary as well as numerous photographs of Jimmy Wilde that have not been included in any previous edition.

160 pages, softcover
Numerous photos, expert opinions of Jimmy Wilde, career record of Jimmy Wilde
ISBN : 9780957034211
Price: £12.99
Write Comment (0 Comments)
Written by Rob Snell
Sunday, 15 April 2012

Welcome to boxinghistory.org.uk
British boxing history brought to life
: http://www.boxinghistory.org.uk/
This website tells the story of British boxing, from its 18th-century roots through to the more familiar era of televised fights. You'll find stories of the most obscure and long-forgotten journeymen as well as Britain's most famous stars.

Learn about the lost customs of the ring and the history of the sport in your area. Discover where and how boxers trained, how often they fought, the conditions they fought under and what drove men to fight for money. You'll learn about British boxing's greatest triumphs, its saddest tragedies, and everything in between.
Written by Rob Snell
Saturday, 18 February 2012
The Gardner brothers

I am trying to assist Mark O'Toole in the project detailed below, and would be obliged if you would assist in this please.
Rob Snell
My primary aims at the moment aside from general information would be:
1. As many contemporary reports of the brothers (George, Billy and Jimmy) as possible. I can't emphasize how important contemporary reports of them would be as I'm finding it hard to source some online or in the Irish libraries as their archives are restricted to Irish newspapers of the early 20th century and not American ones.
2. Any information or reports regarding George's manager Tom O'Rourke.
3. Details regarding later life - especially Jimmy and Billy who have appeared to disappear off the radar completely. Given Jimmy was recognized by some as a former Welterweight world champion I find this quite interesting.
4. Anything regarding the brother-in-law relationship between Billy Gardner and Joe Thomas is also an interesting tangent in the story.
Basically I would see this project as being an examination of the Irish-American emigration experience through the personal story of the Gardner brothers in a very colorful, pioneering period for boxing. Thusly I would require as much minutiae of their personal lives as possible.
I would also hopefully be able to raise awareness in Ireland of the extraordinary achievements of George and Jimmy in Ireland. I'm guessing due to post-Gaelic Revival historiography of Irish sport, the Gardner brothers and Irish Olympians who competed for Britain has been somewhat loss in favour of stories of Irish sport that enhance a positive national identity for Eire.
Mark O'Toole
Name: Jimmy Gardner
Born: 1885-12-25
Birthplace:
Nationality: Irish
Hometown: Lowell, Massachusetts, USA
Height: 5′ 7½″ / 171cm
Boxing Record: click


Write Comment (0 Comments)
Written by Rob Snell
Thursday, 08 December 2011
Mountain Fighters
Lost Tales of Welsh Boxing
By Lawrence Davies
Book Recommendation
Rob Snell
I hope you will join me in supporting the sales of this truly remarkable and extensively researched book by Lawrence Davies. It is, as Lawrence aptly states -


"A must-buy for any boxing fan who wants to re-discover the forgotten origins of Welsh boxing".

Mountain Fighters

Lost Tales of Welsh Boxing

Wales has a long and proud history of fist fighting. While many boxing fans may be familiar with the stories of such fistic royalty as Jimmy Wilde and Jim Driscoll from the early days of the boxing ring, the lives of the men who fought bare-fist on the mountains of South Wales or in the fairground boxing booths for a handful of coins have been far less well documented.

These are the forgotten fighting histories of some of the good, the bad and the ugly from the days of the bare-knuckle outlaws known as the 'mountain fighters'. This fascinating book charts the early history of pugilism in South Wales, from the days of some of the earliest bare fist champions of distinction. These are the stories of a fighting tradition previously shrouded in myth and legend that paved the way for a country's future champions.

For the first time, the deeds and exploits of many of these men are recorded here in full. The product of countless hours of original research on the part of the author, there are many rare illustrations and photographs, many of which have never been printed in any book previously, this is a must-buy for any boxing fan who wants to re-discover the forgotten origins of Welsh boxing.
This is the first book on Welsh bare knuckle fighting to be released by Peerless Press, and will be available from November 2011 from gwales.com and directly from Peerless Press.


http://www.gwales.com/latest/?tsid=6

£12.99 Author: Lawrence Davies Paperback Available ISBN: 9780957034204 (0957034202) Publication Date December 2011 Publisher: Peerless Press


the book is very chunky, its 356 pages, soft cover, over 60 pictures, mostly unseen in any book previously.

The Ghost

The Ghost was a tiny pale speck of a man with fists of steel who had climbed out of the bowels of the earth, and fought his way through hundreds of men, some nearly twice his size, before finally claiming the World Flyweight Championship. So light was the little Welshman who stands as the greatest fighter that Wales has ever produced that he was known to weigh in with lead weights concealed in his pockets in order to make weight. The ring-names never quite stretched far enough to explain the almost superhuman skills of this tiny ex-miner. The Indian Famine, the Mighty Atom, the Human Hairpin, the Tetrarch of the Ring, and perhaps the greatest of them all,

The Ghost with the Hammer in his hand.

Who can fail to be drawn into a story so compelling ?. Photographs fail to capture the enigma that was Jimmy Wilde, an explosive force of nature. A man that was less than 7stone dripping wet, and yet also one of the hardest punchers the ring has ever seen. But even before Jimmy's time Merthyr had been creating Iron men, back in the days of the mountain fighters, when a fight on the mountain at dawn was the quickest and easiest way to settle a dispute that had started in the pub the night before.

Even after taking the flyweight championship of the world, Wilde had marveled at the strength and stamina of his father-in-law, Dai Davies who had once fought eighty four rounds on the mountains above Tylorstown.

'Tomorrow, on the mountain' - that was the way a pub argument usually ended and would be settled the next morning at sunrise, high up on the mountain with lookouts stretched out on the grass keeping a keen eye on the valley below. Only after the men in the know had climbed the mountain, using the cover of darkness to conceal their activities from the ever watchful police, would the men unroll the ropes and stakes, take off their shirts and warm up in preparation for the knuckle fight.

Many of the miners preferred it that way, with the 'raw 'uns' as the knuckles were called back then, where the strength and stamina built up in the coal mine and iron foundry, and the ability to 'take it' mattered more than anything else. Knuckles were often dipped in pickling vinegar and pickled faces often being the badge of the battle scarred veterans who had fought countless rounds for little more than a jug of ale.

This was the way of the old timers, the Welsh fighting men known as the mountain fighters who would fight for twenty, forty, even sixty rounds and more. A round in those times only ended when a man went down, and even then there would be plenty of men telling him to get up.
For the big matches, military precision and tight lips were needed if the fight was to come off. Every town and village in the valleys of South Wales had its local champion, and the only way to settle it was on the mountain…..
Written by Rob Snell
Sunday, 04 December 2011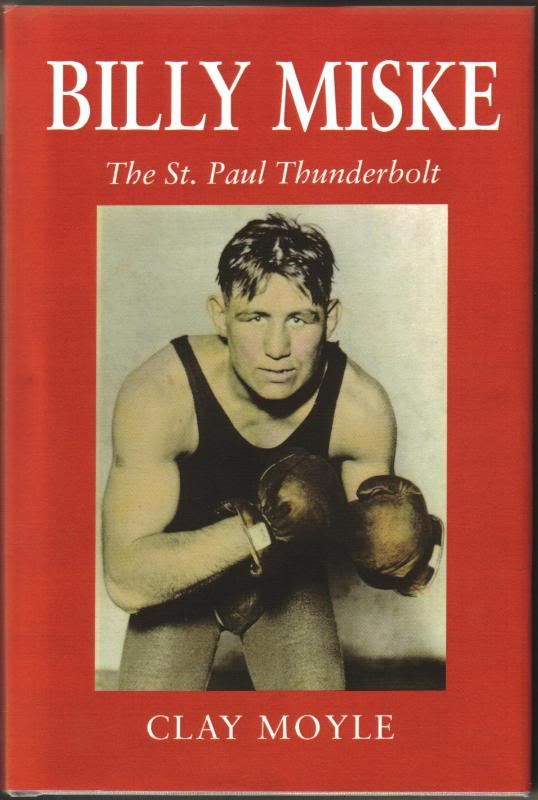 Book description: "Billy Miske: The St. Paul Thunderbolt is Clay Moyle's second biography and a worthy successor to his critically acclaimed tome concerning the life and career of Sam Langford. Hall of fame boxer Billy Miske was arguably the most courageous and inspirational figure in boxing history, and his story is long overdue. During a career that was impeded and cut short as a result of his ongoing battle with a terminal illness, Billy fought a number of the greatest fighters who ever lived, including the likes of Jack Dillon, Harry Greb and Jack Dempsey. The thrilling details and stories surrounding those fights and those of many other ring legends are all here, brought back to life for the reader to enjoy. The books goes far beyond simply chronicling Miske's career, but provides the reader with an in-depth view of a number of the sport's greatest contests and one of the more remarkable periods in boxing history. Miske's courage and perseverance in the face of his impending death, and his personal sacrifice to provide his family with one last Christmas to remember him by, will tug at your heartstrings and leave you with an indellible image of the man."
Clay Moyle's second biography will be available in a few
weeks and he is trying to determine how
many copies he should order from the printer for anyone who would like to purchase a signed or
inscribed copy. Please reply to Clay directly
This email address is being protected from spam bots, you need Javascript enabled to view it to let him know if you have any
interest.
Write Comment (0 Comments)
Read more...
Written by Rob Snell
Saturday, 10 September 2011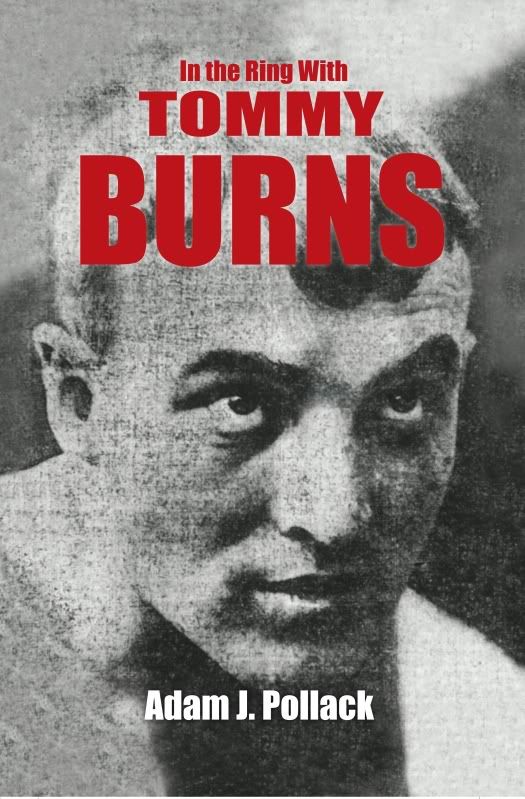 Book is now available via amazon.com

In the Ring With Tommy Burns is the sixth book in Adam J. Pollack's heavyweight boxing champion series. It thoroughly and meticulously describes Tommy Burns' boxing career, using multiple local next-day primary sources to give the book an unparalleled accuracy and authenticity that has been the hallmark of the series. As always, Pollack offers round by round descriptions, pre- and post-fight analysis, bout preparation and negotiations, and provides context for the period, discussing opponents and what other contenders were doing at the time. By reviewing and experiencing Burns' career from the perspective of those who saw him box, one obtains far greater appreciation and respect for the skills and accomplishments of this underrated champion. The book includes 378 pages, over 100 photos, Burns' record, over 650 footnotes, and an index.
http://img.photobucket.com/albums/v466/robertsnell/9780979982231-CaseCREMEfinalaug24forposter.jpg
Write Comment (0 Comments)
Written by Rob Snell
Tuesday, 07 June 2011
Iron Men of Merthyr
This project is fascinating and urge all our visitors to visit this site and hopefully contribute to it with your stories etc
The Project
Iron Men of Merthyr is a fun and exciting project funded by the Heritage Lottery, where local people will take part in making a film about the history of boxing in Merthyr Tydfil.
http://www.ironmenofmerthyr.org/
Write Comment (0 Comments)
Written by Rob Snell
Monday, 09 May 2011

PLEASE VISIT OUR PARENT SITE
Write Comment (0 Comments)