Page 1 of 4
Name: Dom Volante
Career Record: click
Alias: Don Volante
Nationality: British
Birthplace: Liverpool
Hometown: Liverpool, England
Born: 1905-01-15
Stance: Southpaw
The majority of this record was compiled by boxing historian and author Gilbert Odd.
Without doubt one of Merseysides best remembered former boxers Dom Volante could be guarantered to fill any venue he was appearing at during the 1920's and 30's. The son of Italian parents who met and married in England, Don grew up in Gerrard Street, of Scotland road, Liverpool and was one of 14 children. Due to his all action style he was known as the "Liverpool Fighting Machine" and in a 14 year professional career scored wins over names as Nel Tarleton, Johnny Cuthbert and Seaman Tommy Watson. He had around 140 contests and is fondly remembered for his skills with the harmonica after fights as he was for his skills in the ring.
Together with his brother Vincent, himself a former Catholic Schoolboy Champion, Dom was a founder member of the Merseyside Former Boxers association and both remained so until their deaths. Dom passed away in 1982 aged 77 whilst Vincent died in 1996.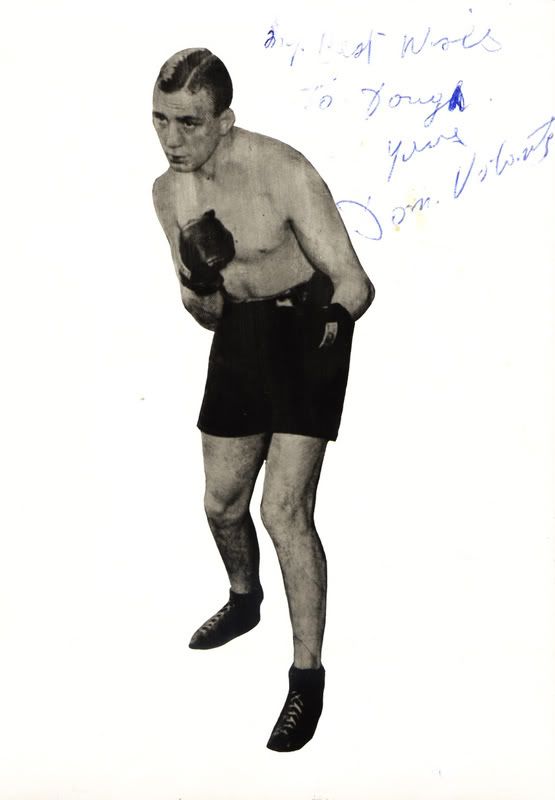 In 1936 one of Liverpool's finest boxers, and undoubtedly the best who ever won a title finally hung up his gloves. Dom Volante grew up in the gas light era, a time of Hansom cabs, cobblestones and grinding poverty. He was one of 14 children born to Italian immigrant parents in Gerrard Street near Scotland Road – Liverpool. This area was Liverpool's "Little Italy". Dom's father made a living by playing the street organ. After one amateur fight in 1922 Dom turned professional as a featherweight.
He was unfortunate in some ways to be a contemporary of the great Nel Tarleton, they clashed four times in the ring with Dom only winning their first meeting and losing the others. At one of their fights, an open air show at Breck Park – Liverpool – in 1928 the crowd of 13,000 disagreed so violently with the decision of referee "Bombardier" Wells in awarding the bout and the Northern Area Title, to Tarleton, that more than the usual verbal abuse was hurled, and the "Bombardier" Billy Wells in awarding the bout and the Northern Area Title , to Tarleton, that more than the usual verbal abuse was hurled, and then the "Bombardier" received a severe cut on the head when he was hit a bit slow slow ducking out of the way of a low flying chair.
Tarleton and Volante were friends away from the ring and their double act with Dom on the mouth organ and Nel tap dancing was legendary. One of their most famous performances was at the opening of the Paramount Cinema which was built on the site of the old Pudsey Street Stadium .
Dom had been on the "Bill" on the last night at Pudsey Street when he had stopped Teddy Brown of Newcastle. On one occasion his skill with the mouth organ came to his rescue when in a bout with Nipper Cooper In 62 seconds and the crowd, mostly miners, threatened to riot. Dom produced his mouth organ and defused the situation. In fact his mouth organ displays became a feature of his life of his life and helped him raise thousands of pounds for charity.
During his 14 year career he packed in around 140 contests with only a hand full of defeats. In his early days he sometimes fought twice a night to help bring the money in, only the alternative to doubling up was to sell chocolates at ringside in between bouts. Dom was the scourge of continental boxers and the despair of top agent Nick Cavelli who brought 32 of them over to beat the "Liverpool Wop", he defeated 31 of them and drew the remaining contest. In 1930 he toured America with Tarleton and his fight with Harry Carlton in front of 18,000 fans at Madison Square Gardens was voted by the U.S. press as the greatest fighter ever seen in that famous arena.
He quit the ring in 1933 with eye trouble , but only after 18 months he was back again for a six undefeated comeback. After a short spell as a manager he went to sea, first as a steward and later as a gym instructor on the Britianic,Mauretania and the Queen Mary. Ashore he worked as a security guard at Jacobs for a while until his retirement.
His death , in 1972, at the age of 77 brought down the curtain on the life of a truly remarkable fighter who made thousands of friends both inside and outside of boxing.. in his time he was one of Liverpool's best loved personalities, he, like Dean and Tarleton in the inter war years truly became a legend in his own lifetime.