Name: Melio Bettina
Career Record: click
Nationality: US American
Birthplace: Bridgeport, CT, USA
Hometown: Beacon, NY
Born: 1916-11-18
Died: 1996-12-20
Age at Death: 80
Stance: Southpaw
Height: 5′ 9″
Reach: 178
Division: Light-heavyweight
Manager: Jimmy Grippo
1934 won the Intercity Golden Gloves at light-heavyweight (2nd Div.) by decision over Tony Zale.
Monitor Index and Democrat, Moberly.Mo
13 July 1939
CONN AND BETTINA
FIGHT TONIGHT
Winner of Match Might Be
the Heavyweight Champ
Next Summer
NEW YORK, July 13
Billy Conn of Pittsburgh and Melio Bettina of Beacon, N.Y.,. two tough youngsters who fully expect to be plunk m the middle of the heavyweight situation a year from now, clash in a 15-rounder at Madison Square Garden tonight for the country's 175-pound title.
Bettina already has been recognized as light heavyweight champion by the New York State Athletic Commission, and the winner of tonight's tussle will get an official nod from the National Boxing Association, making it unanimous.
Conn, reigning favorite of New York fans since his two victories over Fred Apostoli and another over Solly Krieger, has been made a firm choice in the betting, with Bettina's admirers receiving 3 to 1 for their money.
Conn is the faster and his left hook is the prettiest thing in the ring today. Bettina, squat and sturdy, packs the better punch.
Promoter Mike Jacobs has admitted he expects to make more out of Conn in the long run than any of the current "contenders' for Joe Louis heavyweight title. He is figuring that Conn, who only recently turned 20, will continue to grow and become a fully fledged heavyweight by next summer.
Bettina has similar ideas. So, out of tonight's fight is likely as not to come the man who will be yelling insults at the champion next summer.
Until his path crossed with that of Melio Bettina, a light heavyweight boxer from Beacon, N.Y., Jimmy Grippo was content to ply his trade as magician from stage and lecture platforms throughout the land.
Once he caught up with Melio, this member of the Society of American Magicians deserted his bag of tricks to concentrate on guiding Bettina to the championship. At first, this was done at the expense of lucrative stage engagements but before long Bettina was quite an attraction.
Bettina deserted the amateur ranks in 1935 after winning a flock of assorted championships. He beat Tony Zale in the Chicago - New York inter-city Golden Gloves tournament. After starting his professional Career in sensational style, Bettina hit a slump. He found .it difficult to find bouts around New York because he was a .GOOD southpaw. So he moved to the South. A successful, campaign there paved the way for his return to New York. But again he had little luck getting matches.
A series of matches on the West Coast established Bettina as a serious contender for titular honors and he was matched with Tiger Jack Fox in Madison Square Garden. This contest was sanctioned as ,a world light heavyweight championship bout by the New York commission. Fox was generally recognized as the logical man for the crown, left vacant .when John Henry Lewis decided to campaign against heavyweights. Bettina knocked Fox kicking in short order. Bettina meets Billy Conn of Pittsburgh in New York July 13.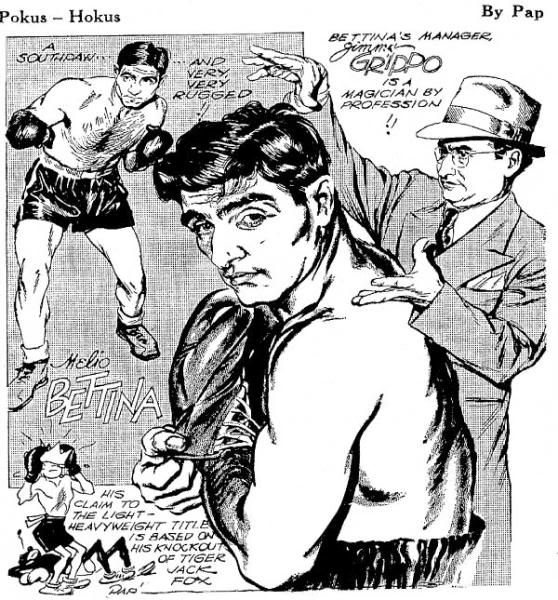 Monitor Index and Democrat, Moberly.Mo
14 August 1941
It may be that Jimmy Grippo has exercised his vaunted hypnotic powers over us to make us see in Melio Bettina a challenger for Joe Louis in the not too distant future. Grippo, Bettina's magician-manager, claims to have a hypnotic influence over his fighter, .and is gradually succeeding in making Melio believe that he is a greater fighter than Jim Jeffries and destined to become champion of the world.
Actually, Bettina, now fighting as a heavyweight, is a much improved fighter over the Bettina who held the light heavyweight championship. His blows carry more dynamite but the added poundage has not robbed him of his natural speed. The most important change is the fact that Melio no longer tires after four or five rounds as he did a couple of years ago when he had to get down to 175 pounds. Now. He seems to grow stronger as the fight progresses. His normal weight is around 1S5 pounds and on his 5-foot-9 frame that is about all he needs.
Since he began fighting, as a heavyweight, Bettina has piled up an impressive string of victories. Of his twenty-four straight victories over the big boys, eighteen were knockouts. Bettina's latest victim was Red Burman, the rugged redhead who made a grand showing against Joe Louis.
Bettina's unorthodox fighting style baffles most heavyweights. There are very few southpaw fighters among the heavies, and Melio makes the most of his assets. Joe Louis has never faced a southpaw, and it is quite likely that the champion, puzzled more than once by unorthodox ring style, might have trouble solving Melio's attack, Bettina's whirlwind Style — and he really punches fast — doesn't give his opponent much time to get set to punch or think.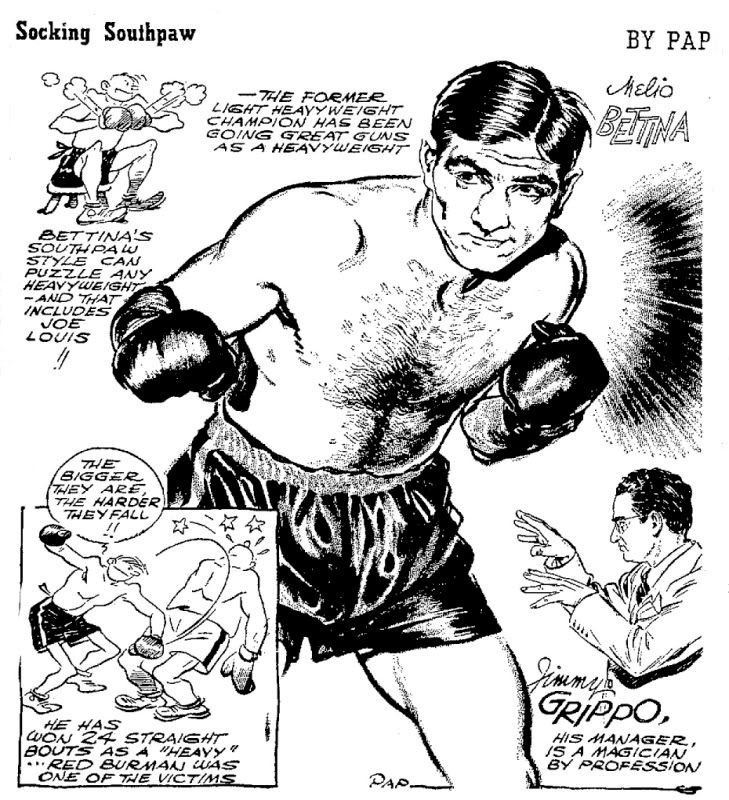 Only registered users can write comments.
Please login or register.
Powered by AkoComment 2.0!