Page 1 of 2
Name: Paul Pender
Career Record: click
Nationality: US American
Birthplace: Brookline, MA
Hometown: Brookline, Massachusetts, USA
Born: 1930-06-20
Died: 2003-01-12
Age at Death: 72
Stance: Orthodox
Height: 5′ 10″


Following his boxing career, Pender worked as a fireman in Boston.

Died January 12, 2003, at the Veterans Administration (VA) Hospital in Bedford, Mass.
http://www.cyberboxingzone.com/boxing/pender-p.htm
http://www.youtube.com/watch?v=UkfrAbvh6x0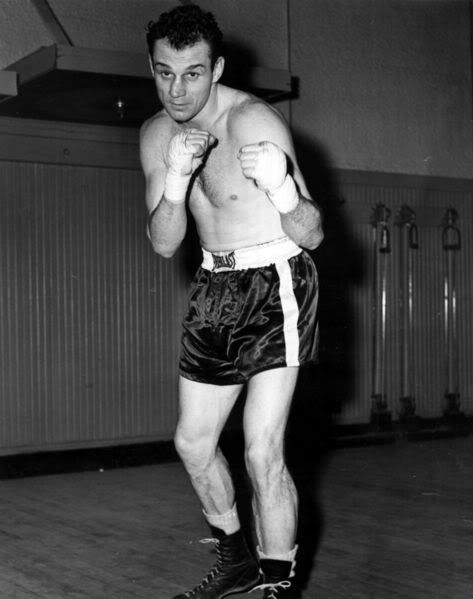 Paul Pender was born in Brookline, Massachusetts, on 20 June 1930, into an Irish-American family whose roots were in Killarney, County Kerry. As a youth, he won All-Stars honours as a high school footballer and excelled at swimming. An intelligent and articulate young man, he completed a couple of years studying politics at Staly College, Brookline, before deciding to give boxing a try. In January 1949, having won the New England amateur title, he turned pro.
A local Boston middleweight. Al 'Red' Priest, had watched him box as an amateur and recommended him to Johnny Buckley, a manager who had previously looked after world heavyweight champion Jack Sharkey and the middleweight claimant Lou Brouillard. Buckley liked what he saw, and engaged Al Lacey as trainer.
It was a partnership that was to endure to the end of Pender's career, although the team was later augmented by Boston lawyer John Cronin.
CONFIDENCE SHAKER
Pender enjoyed early success in the paid ranks and only a draw with Bill Daley marred his record in his first 21 fights. Norman Mayes inflicted his first defeat, in December 1950, and although Pender reversed the result with a seventh-round knockout in a rematch a month later, his confidence had been severely shaken and he won only one of his next five fights.
Eugene Hairston, the deaf-mute from Harlem whose victims included Kid Gavilan and Paddy Young, knocked him out, as did Jimmy Beau. After the defeat by Beau, in March 1952, Pender drifted out of the game. He said later that he was being torn apart 'by a lot of internal conflicts with my own organization of supposed advisers'. He decided to join the US Marines. where he was employed as a boxing coach, with the rank of corporal.
However, the competitive urge was still there and. in August 1954, Pender eased back with a 10-round points win over Larry Villeneuve. He underwent an operation to remove a piece of floating hone from his hand. but any hopes that the problem had been solved evaporated when he broke his hand again. outpointing Ted 0lla. He followed that victory with a fourth-round knockout of Freddie Mack, a colourful character who enjoyed a modestly successful career as a pop singer after settling in Britain when his boxing career was over.
These victories earned Pender a match with Gene Fullmer. the young Mormon from Utah who was making a big name for himself with 27 straight wins – 19 inside the distance and 11 in the first round.
MORE HAND PROBLEMS
A win over Fullmer would have propelled Pender into the ratings. but instead he endured a nightmare when they met in Brooklyn. in February 1955. Pender broke his left hand in the fourth round and his right in the sixth. It speaks volumes for his courage that he managed to survive a knockdown to last the full 10 rounds against such a powerful and dangerous opponent.
It was nearly two years before Pender surfaced again. He outpointed Jimmy Skinner, in December 1956, but broke his hand yet again and once more retired for two years. He was rumored to he drinking heavily, and there were frequent reports of bar-room brawls. However, marriage and the arrival of two young children helped calm him down. He took a job as a docker and later joined the fire service to support them.
Despite all the disappointments and setbacks, Pender still nursed his dream of success in the ring, even though he had managed only six fights in seven years. In late 1958, he launched one last comeback. and his first six opponents failed to go the distance. His hand problems seemed to have righted themselves, and in March 1959 he had a break of a more welcome sort, when he was matched with TV favourite Ralph 'Tiger' Jones.
MIDDLEWEIGHT SPLIT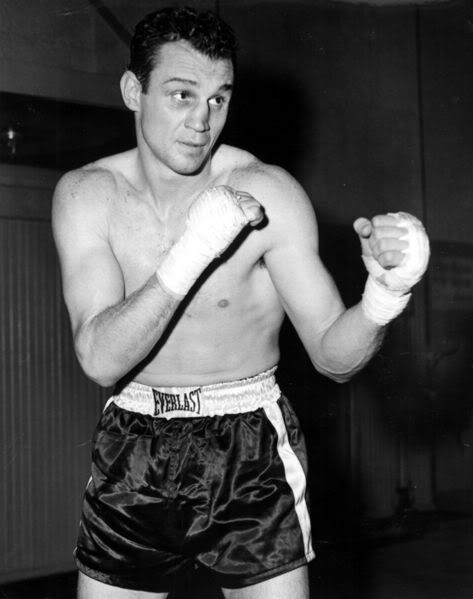 Jones was amazingly popular on TV, with around 50 of his fights being screened, and two months before facing Pender he had outpointed Joey Giardello. Although a rank outsider, Pender boxed brilliantly to win an easy decision, and his success continued when he outpointed Jackson Brown, in August 1959, to win the New England title.
Meanwhile, world champion Sugar Ray Robinson was in trouble for not defending the title he had regained from Carmen Basilio in March 1958. The NBA had declared his title vacant and matched Fullmer and Basilio for their version. Fullmer won and carried the backing of most of the American states, although Britain and Europe followed the lead of the New York Commission and continued to recognize Robinson. Massachusetts, Pender's home state. was one of the few to line up behind New York.
`Satchel' Sam Silverman. the Boston promoter who had staged virtually all of Pender's fights, persuaded Robinson that the apparently unthreatening and brittle-handed Pender would not pose much of a problem and would give the champion an easy defense.His persuasiveness paid off.
BOSTON UNDERDOG
Pender went into the challenge against Robinson, in January 1960, as a 6-1 underdog, yet he had so much self-belief that he put $2,000 on himself to win and promised to retire and join the police force if he lost.
Robinson, at 39, knew he would struggle over the 15-round course and gambled on a quick finish, throwing everything at the challenger in the opening round. Pender, with the backing of 10,680 of his fellow Bostonians, rode out the storm, dominated the later stages of the fight and took the middleweight championship on a split decision.
Robinson, who was always generous in defeat, had no complaints about the verdict. 'What I think about the outcome doesn't matter,' he told the press. 'That's for the referee and judges to decide.'
It was a costly night for Robinson. who had turned down a $500,000 guarantee from Madison Square Garden for a defense against Gene Fullmer in favour of his $83,311 pay cheque against Pender. 'Pender was moving away for seven rounds,' he explained. 'Guess he figured I'd tire later on. Maybe he was right – I just couldn't seem to get going.'
SUGAR RAY RETURN
The rematch, inevitable in those days, was made for Boston, in April 1960, and Robinson tuned up by disposing of Tony Baldoni in just one minute 40 seconds. However, Pender injured his right heel in training and the fight had to be put back until June. Robinson caused another hitch in the build-up when he walked out of a proposed warm-up fight in Baltimore. Ile refused to fight against a last-minute substitute, leaving the crowd of 2,014 disappointed and angry. The Maryland Commission suspended Robinson's licence, and the NBA said they would instruct their member states to honour the suspension.
Only a week or so previously, the Massachusetts Commission had announced a set of new laws to improve the administration of the game there, but they were now put in the awkward position of refusing to honour another state's validly-imposed suspension. Had they done so, of course, Robinson would not have been free to face Pender.
The New York Commission, Pender's principal backers as world champion, adopted an even more confusing stance. They decided to suspend Robinson's licence, but then announced that they would continue to recognize the Pender defense against Robinson.
Like their first encounter it was very close and hard to score. judge Johnny Savko had it 147-142 for Pender. referee Jul McCarron made it 146-144 to Robinson. and judge Jim Carrig scored an outrageously wide 149-138 in Pender's favour – suggesting that the veteran ex-champion had won only one round and drawn two out of 15.
Pender's victory made him the first man to beat Robinson twice, and afterwards he talked of a unification match with NBA champion Fullmer. He even considered a light-heavyweight challenge to Archie Moore.
THE BRITISH CHALLENGE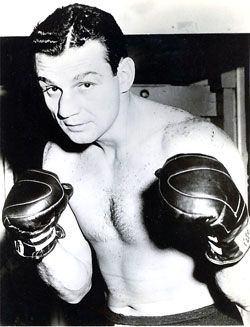 More immediately, however, he agreed with London promoter Harry Levene, who was at ringside in Boston, that he would face the winner of the forthcoming British title fight between Terry Downes and Welsh challenger Phil Edwards. The plan was to stage a non-title bout against the victor, with the promise of a title challenge should Pender be beaten.
Pender duly flew to England and watched Downes win his Lonsdale Belt outright by forcing the Welshman to retire after 12 rounds. When Downes went on to outpoint top-ranked Joey Giardello (who eventually went on to win the title himself), the idea of a non-title fight disappeared.
The London-born, ex-US Marine Downes was given a title date with Pender, in Boston, in January 1961. Ale contest, which is featured in Video Action, proved to be one of the hest of Pender's career.
P ender had to dig deep into his reserves to force a seventh-round stoppage against a relentless Downes. The challenger forced him to stand and trade blows throughout, but all three officials had Pender ahead when he split Downes's nose to end the fight. It was a devastating blow for the Englishman. who had felt that the fight was going according to plan up until that point. '1 felt him getting weaker and myself stronger around the sixth round: he claimed. 'It was easy to hit him in the body:
Pender was gracious in victory, and paid Downes the ultimate compliment by comparing him to ex-champion Robinson. 'Sugar is clever and hard to catch,' said Pender. `But this guy Downes comes at you all the time and hurts when he hits.'
London promoter Harry Levene immediately offered Pender £35,000 – twice his purse for the first fight – to give Downes a rematch, at Wembley, in May. But Pender turned it down in favour of a possible date with the winner of the forthcoming Fullmer versus Robinson NBA title fight, scheduled for March in Las Vegas.
However, in late February 1961, Pender announced that he had changed his mind and would accept Levene's offer to defend his crown in London. The waters were then muddied further when, a week later, the champion let it be known that he was also considering an offer to defend against former holder Carmen Basilio.