Page 1 of 23
Amateur And professional Boxing History
the following pages is an ongoing project to Celebrate the long and distinguished History Of
This area
The driving force behind this is Alan Worthington Jnr who's father was a boxer from the area.
Alan has accumulated a large quantity material and It is a pleasure for this web site to provide the place to showcase this material.
in due course many more images will be added along with biographies of the past and current boxers, trainers etc
Any information which you can provide will of course be much appreciated.
Rob Snell
This email address is being protected from spam bots, you need Javascript enabled to view it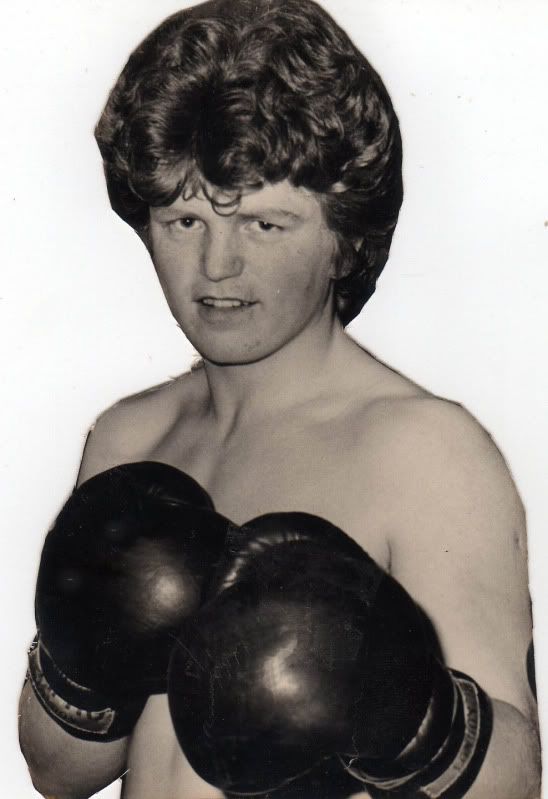 Name: Alan Worthington
Born: 1959-06-05
Nationality: United Kingdom
Hometown: Liverpool, Merseyside, United Kingdom
Boxing Record: click
Alan was born in Liverpool on the 6th June 1959 and clocked up some 300 amateur fights and another 16 as a professional. He started boxing at the age of 7 at Kirby ABC where he had his first fight aged 11 against Paul Dennet. His coach and trainer were Charles Aktinsons snr and Tucker Edington.

He then went to The Kingsway ABC Widnes, then to Runcorn ABC and finally Wavertree ABC. He was three times a NORTH WEST CHAMPION and also ABA Finalist. When asked about his many fights he fondly recalls the great battles he had with Brian Snagg, George Schofield , David Jenkins, Tommy Connelly , Derek Wall, Herol Graham and his favourite venue, not much of a surprise, was the Liverpool stadium. Alan said that he remembers well selling boxing programs outside Liverpool stadium with John Hyland.

He would often turn up at shows but wasn't on the card , got weighed in and boxed. Alan has many of the programs although, obviously , they haven't got his name listed. His son ( Alan ) said "when speaking to my dad he said that he wishes he had put as much effort at being a pro as he did when an amateur fighter. He felt disheartened really, he explains, that he had to travel places like Yorkshire, Wolverhampton, and Dudley by himself on a train with no directions and having to find the venue and box . He would be out in the pub on a Friday night drinking then get a call the next day to fight , but he still enjoyed his pro career. We have a laugh about the Clifton Wallace fight when he turned up at the Queen Mary Ballroom, Dudley, hours early and ended up having six pints of larger before the fight ha ha, so he looks back and wishes he would of put the same dedication into it as his amateur career.

Alan says that his hardest ever fight was against David Jenkins, Birkenhead, when he lost to Jenkins in Wales . He evened the score when he beat him on next show in Liverpool. Which shows why it was his favourite venue. The most fights he had in one night was in the Dockers club Liverpool where he had no less than four fights in the junior ABA's.
Alan was such a busy fighter that he was going to shows and they wouldn't let him fight because he had that many fights in a season. he boxed all over the country week in week out, and as a senior he couldn't get a fight in Liverpool.
Alan says that he can still feel the noise from the crowd when he was in the changing room at the Liverpool Stadium. Which is common amongst the many fighters who plied their trade at the Stadium. Alan is still a big boxing fan and in keeping with many an ex boxer tries to keep fit, and spends many an hour on his allotments and spending time with his grandchildren.
As this fascinating story unfolds Alan Worthington Snr in speaking with his namesake son tells us more of his memories as a fighter.

He never did any training for the pro fights he was just called last minute to fight so he feels that if he would of had more advance notice for the fights he could have been much fitter ,ready for the fights, and done a lot better . He also went sparing round all the gyms in Liverpool with all the champions some off the clubs golden gloves, Holly name, Maple Leaf , and he often sparred with Robbie "Dynamite" Davies.
Some of the venues he fought at were, the Adelphi hotel Liverpool, the Florence Institute Liverpool ,Romeo and Juliet's Liverpool, boxing was in the blood in the Worthington family having three brothers, all boxers, but Alan was the one with the natural talent from being an amateur champion then turning pro. His father Ted Worthington was a big part off his boxing life following him all over the country and buying him all his boxing gear and playing a big part in his training. He would drive him to Kirkby from Runcorn 3 and 4 times a week , same again when he went to Wavertree.
There is a very well-known pub in Runcorn called the "Tanners" were supporters would often come to watch Alan Worthington and club mate Micky Flynn fight. Two or three buses full traveling round the country to watch when boxing for Wavertree ABC. The Wavertree coach was Tony Derby, Runcorn coach was Les Herbert. Also other things Alan Worthington won 3x The West Lancs & West Cheshire ABA champion. He packed in amateur boxing after he was at a boxing tournament in wales and dropped the lad 3 times in every round and still got beat on the decision vote he says he easily won the fight but was boxing on "their home turf". He felt like he was robbed and had enough. He told his dad Ted I'am not doing it no more this has happened a few times now and he hung his gloves up. Some 18 months later he got a phone call from one of his previous trainers from Widnes who said the boxing promoter Billy Macdonald wants to sign him up as a pro. When Alan Worthington was a junior fighter he was boxing that well that Jackie Turpin , the brother off the late champion Randy Turpin said he had high potential in boxing and was a joy to watch,

Alan also says
His coach in Kingsway ABC was Billy Evans and he boxed for the Kingsway ABC in Widnes for 3 years , for Runcorn ABC for 2 years , for Wavertree ABC 8 years , and was at Kirkby ABc for 4 years , as a pro he never had a gym ,he was just left to get on with it.

He said he has boxed at probably every boxing venue and every amateur boxing club in Liverpool , boxed every lad in Liverpool at his weight in the years he was boxing. He had hundreds of Trophies and the ones that didn't have his name on he donated to Runcorn ABC for the kids ( what a better testament to the quality of this man I have yet to hear ) . When his dad passed away he put his best trophy his favourite one in the coffin with his dad Ted Worthington to rest. From the age of 7 boxing was his life training and sparing every day all round clubs in Liverpool.