Page 15 of 23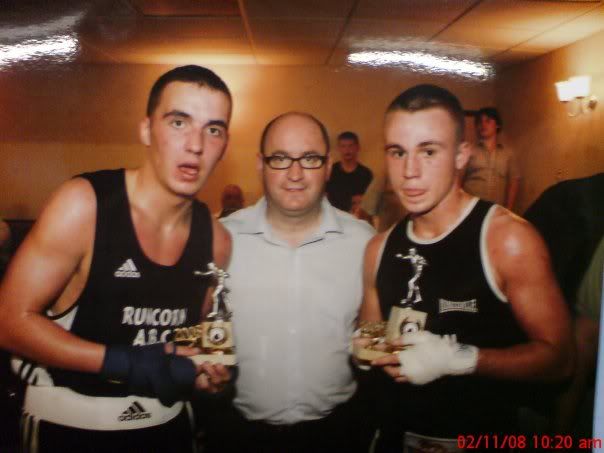 Runcorn ABC with John Hyland

18 October 2000
ROBBIE DAZZLER
HOT shot Robbie Shearer heads off to Canada next week after being chosen to represent the region in an international boxing tournament.
The 20-year-old welter-weight from Windmill Hill was picked ahead of hundreds of young hopefuls to fight for the North West Counties Select against a Canadian Select in Vancouver.

A member of Runcorn Boys Boxing Club, Robbie made his mark on the sport last year when he beat tournament favourite Ricky Eccleston in the ABA Championships. Coach John Lally said: "Robbie really come of age after that victory.

"Ricky, who is well respected on the circuit, was a certain for the championship and Robbie beat him in style. "Ricky has turned professional since then and remains unbeaten - that's how good he was. "I think that win had a lot to do with the selectors picking Robbie for this trip."
John continued: "Robbie will stay in Canada for a week and if he does well, which I'm sure he will, it could open a lot of doors for him.
"Over the years Robbie has struggled with his weight and I wouldn't let him fight for two years because I thought the extra few pounds were hampering his progress.

"He worked so hard in the gym and lost over a stone and it's paid off. He's his ideal fighting weight now at 10st 4lb. "Not only will Canada be a great experience for him, but it will also prepare him for this season's ABA Championships which start in February." Also doing well at the club are 19-year-old Ritchie Prescott from Murdishaw and Robbie's 15-year-old brother Thomas.

Ritchie won the Senior Novice ABA Championship at Everton Park recently and is described by John as a 'special talent'.
Thomas, meanwhile, was due to take part in the NABC Championships in Speke tonight (Wednesday). Thomas, who turns 16 next week, was hoping for an early birthday present in the shape of a victory.
Wednesday, 21 March 2001
BOXING CLEVER
RUNCORN heavyweight Glynn Turner is into the ABA National Senior Final. He is the borough's first ever boxer to do so.
The 23-year-old from Windmill Hill, who boxes for Liverpool's Golden Gloves Club, won his quarter final at Everton Park Sports Centre last Friday.
He beat on points the London area champion J Zikic from the famous Repton Club who is also a Yugoslavian international and has boxed in the USA.
Then the next afternoon in the semi final he beat, also on points, the south west champion Patrick Lewis from the Taunton ABC.
Glynn now travels to the Barnsley Metrodome on Friday, March 30 for the final.
But whatever the result, Glynn has proved that he is currently one of the country's top amateur heavyweights.


20 March 2002
ROB NOSED OUT OF BOXING BOUT
WIDNES amateur middleweight boxer Rob Devany was stopped on Saturday night at Woolston Leisure Centre, in Warrington, in only his second bout.
The youngster, a member of Widnes Amateur boxing Club, was pulled out of the contest by the referee in the dying seconds of the final round after sustaining a nose injury.

Devany gave a good account of himself in the first round but the height and reach advantage of his opponent S Lithgoe, of Hartlepool Catholic Club, began to tell in the second and third.

Trainer Jack Ryan told the World: "Rod had a slight weight advantage but his opponent was 6ft 2 and had a much longer reach and managed to keep Rob at a distance. In the third round he caught Rob with a couple of solid lefts and his nose started bleeding. It looked a lot worse than it was but the referee stopped the fight. I think Rob could have finished the fight but the referee had the lad's interests at heart."
Devany was the only representative from the Widnes Club fighting on the card after the opponents for three other WABC fighters pulled out of their contests.