Page 4 of 23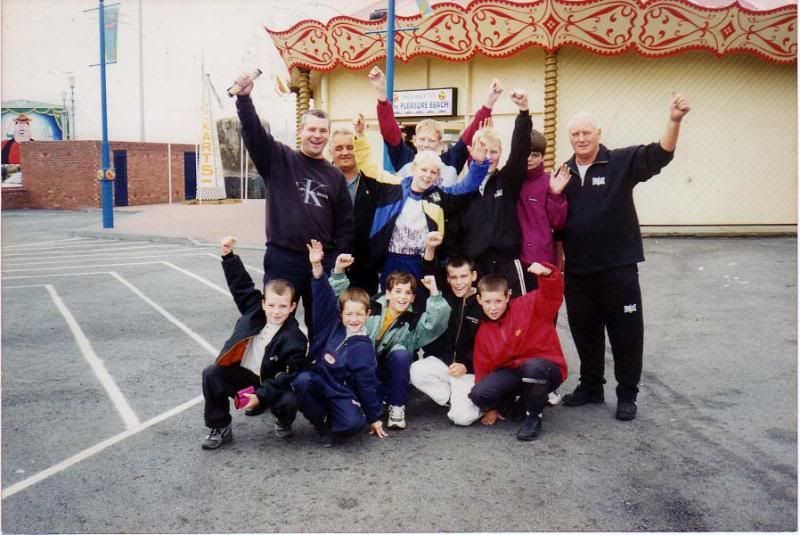 Runcorn ABC at Blackpool

Wednesday, 22 September 1999
BOXING BOYS ARE A REAL KNOCKOUT
IT's gumshields in and gloves at the ready at Runcorn Boys Club as they prepare for the start of their new boxing season.
The Boston Avenue-based club re-opened this week, and as well as training the more experienced members for competitions, coach John Lally is looking for newcomers.

"What we are interested in promoting here is the art of self defence, rather than the idea of people fighting," explained John.
"If parents are worried about their kids being bullied then they can come here and we will teach them how to defend themselves.
"We've had lads come here in the past who have been getting picked on and they have been able to walk out with their heads held high.
"All the lads are insured as soon as they start. It takes between 10 to 12 months to train them depending on their level of fitness, and the lads receive loads of support from us even if they just want to get fit rather than compete."

John points out that the club has achieved many success stories, most notably Robin Reid, the former WBC world super-middle weight champion.
More recently, Richie Prescott, 20, went to Yorkshire last year to compete in the semi-finals of the National Amateur Boxing Championships (NMBC), Robbie Shearer, 19, competed in the senior NABC Championships in Liverpool and Manchester.

And 17-year-old Franny McHue still remains unbeaten since the NAMC Junior Novice Championships last year. He's fighting fit as the moment as he prepares to join the Royal Marines. Club secretary Rab Shearer said: "At the end of the day we know we're doing a good job because it's keeping kids of the streets, giving them an interest, keeping them fit and letting them get rid of their adrenaline.
"But we still want more lads to come forward. We're here four times a week and we ideally want about 35 lads to be attending from the age of nine upwards."

John and Rab are also looking for coaches to help out
Thursday 13th Apr 2000
ROBBIE'S SHEAR DELIGHT

ROBBIE Shearer delivered a sucker punch to the boxing world last week - beating Liverpool's biggest hot-shot.

The 20-year-old Runcorn pugilist was the definitive underdog against Ricki Eccleston at last Friday's ABA championships at the Everton park centre.
But the light-welterweight beat the tournament favourite 9-8 in a thrilling four-round encounter. Robbie now meets Bootle's Jamie Matthews from Stanley ABC in the final this Friday.

John Lally, Robbie's coach at Runcorn Boys Club on Boston Avenue said: "Ricki has won every title going and was the favourite for the title.
"Robbie caused a major upset. It was a cracking contest and Robbie got a standing ovation at the end from the crowd. It was close. The rounds are judged by computer scoring.

"I don't think anyone gave Robbie a chance before the fight - except us at the club, of course." Robbie's win was even more significant because it was his first competitive fight for two years.

The youngster has had a long-running 'battle-of-the-bulge' in a bid to attain his ideal fighting weight. John explained: "When Robbie was first boxing at 10 stone he won 10 contests on the trot.

"He's quite a hefty lad and he ballooned up to 11 stone 4 pounds and went on a really bad run. It just wasn't his best weight.
"We decided to take him out of the game for a while.

"We weren't sure that he would be able to get his weight down but, after a lot of hard work and dedication, he did it.
"He's now reaping the rewards for all his determination."