Page 2 of 7
The Ring Battle of the Century.
As a preface to the articles which follow it is Interesting to consider this point as well as the remarkable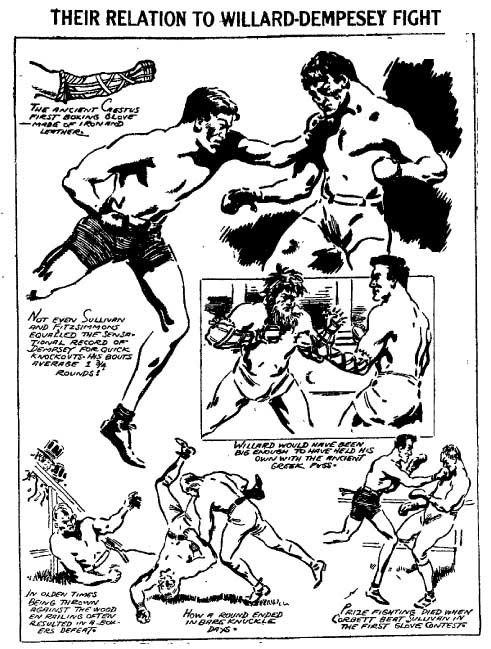 progress of boxing since its origin.,The latter is chock full of tooth'some "dope" for the fight fan and It has a material bearing on the coming contest, showing it in its true light of importance as a modern athletic event. The Jeffries-Johnson bout in 1910 appeared to quality in every department the supreme contest of its kind during the last century. Certainly there never was such a fight that aroused one quarter of the public enthusiasm manifested in big Jeff's bungling attempt to snatch the supremacy of the ring for the white race from his cagey black antagonist. Along with the attraction of mixed colors and races was the towering fistic reputation of each; the question from a scientific standpoint of a marvelous athlete's ability to "comeback" after a lay off of seven years; and the hitherto unheard of "amount of the purse offered by Tex Rickard who valued the contest at $121,000.
Yet along comes the Willard-Dempsey affair preserving old traditions and presenting its own singular characteristic of the largest purse and the shortest number of scheduled rounds ever connected with a championship wrangle. Viewed from the monetary standpoint it can thus lay claim as have former famous battles to the glory of "The Ring Battle of the Century." Considering the approaching bout' in the halo of such pugilistic renown naturally invites comparison with ring events of other days. It is from such an analysis that the remarkable
progress of boxing is best illustrated as well as the lofty plane on which the impending combat is to be conducted.
Brutality in Early Days of Boxing.
The earliest form of boxing dates back to the age of the ancient Greeks. These hardy people held the sport in the highest repute and in their primitive fashion were very skillful with their hands. Gladiators in the day of Homer fought with the a gauntlet composed of rawhide thongs usually weighted with lead to lend force (and usually fatality) to the blow. Needless to say few of these courageous pugs lived through many well-placed blows from such a deadly "glove " Quite a contrast the harmless, well upholstered mitts with which Willard and Dempsey will make passes at each other. In those times little attention was paid to science. He who dealt the first murderous blow claimed the laurels Jim Corbett could have annihilated the entire Greek nation had he lived in the day of the gauntlet.
The foregoing, however, represents but the crude beginnings of boxing It is so different from latter day methods that it hardly deserves classification under such a head. James Figg the first English champion in 1740 is the generally accredited "father of boxing." From his time on we run across some astounding ring incidents which reveal the humane principles regulating ring engagements of today. Figg conducted a school in which boxing and sword play were taught and bouts between any and all were staged. These matches, advertised as
"tests of manhood" were a curious mixture of sword play and boxing. When the former was terminated through broken weapons the contestants went at it with their fists. A generous tincture of wrestling was added to determine the end of a round. Figg reigned supreme in his day, his characteristic challenge calling for a fight "for love and bellyful." It surely takes more than that to promote a championship in these days of $127,000 purses.
Until the introduction of Queensberry rules early ring encounters were contested with bare knuckles and wrestling played an important role in the proceedings. A round ended when either or both principals went to the ground. "Cross buttocks," "flying mares" and a variety of holds were used to accomplish an opponent's downfall That there was considerable brutality associated with the bare knuckles epoch is ,not to be questioned We have the following pen picture of the mill waged between Joe Hood and McDonald in 1775. "MacDonald fought bravely; he was beaten so dreadfully before he gave in, that both eyes were closed and it was found that his jaw was broken "
Modern Boxing Not Dangerous.
Having dwelt on the brutality attending the bare-knuckle days let us examine the character of fighting which has marked the decisive ring battle since the advent of the boxing glove. Prize fighting became an extinct pastime with the first glove contest. When poor old dissipated John L. Sullivan sank to the damp sand of the new Orleans ring under Corbett's relentless right handers to the jaw he was far from being a badly punished boxer. True, the Old Roman was physically in a state of collapse, but this was as much due to poor condition as to the effect of his conqueror's blows. Sullivan was not even unconscious when counted out. He was merely badly dazed .and his seconds restored him to a normal condition after a few moments of face sponging. Before they had even finished their task John shambled over to the ringside and raising his hand said "I've tried once too often. I am glad the championship remains in America."
Corbett didn't receive a Genuinely hard blow from Sullivan during the whole bout. When Corbett in turn succumbed to Fitzsimmons' solar plexus at Carson he was clear-headed although the punch had paralyzed his muscles. He was totally unable to make a move to regain his feet but he bore no marks from the fourteen rounds of desperate boxing.
Boxers Knocked Out Quickly Recover.
Fitzsimmons while rendered unconscious by Jeff when the Californian stretched him on the floor at Coney Island was anything but a gruesome sight Bob sported a discolored optic and a puffed mouth as souvenirs of Jeff's jib-boom left. But he revived from the knockout quickly and was out of the arena fifteen minutes after Jeff's right had laid him prostrate on the floor. Jeff's finish at Reno against Johnson was greatly similar to the downfall of Sullivan. The White Hope had a much battered appearance owing to his left eye being closed. But in reality he received little no punishment worth mentioning. His vitality had deserted him and he fell before a blow he would have laughed at in his palmy days.
When Tommy Burns, lost the title to Johnson he was actually on his feet. Johnson's physical advantages were plainly too much for the Canadian and the bout was stopped to prevent the plucky little Burns from receiving punishment he was unable to avoid and because he was giving none in return. Johnson's defeat at Willard's hands was somewhat similar to Jeff's downfall at Reno. He simply consumed all his strength pounding away at the big Kansan's anatomy. when he was entirely played out Jess unloosed the finished. The negro, badly exhausted collapsed, as much from over-exertion as the force of Jess' smite.
Strenuous Training of Old-Time Fighters.
Another interesting phase of primitive boxing methods was the amazing systems of training in vogue then. It represented a "grilling" equal only to that sustained in the fight itself. Back in the era of Deaf Burke we learn that fighters plodded for miles holding to the rear of a fast driven cart. This conditioning stunt ended only when the pugilist collapsed from sheer exhaustion. He was then toted back to his tavern and revived with copious dashes of cold water, followed by a glutton's meal of raw beef, ale and stale bread. What a rumpus Willard and Dempsey would kick up at the thought of exchanging their well ventilated gym's, skipping rope, punching bags, sparring partners and motor cars for such a strenuous routine. So much for progress in the matter of boxing and training.
The Era of "Frenzied Finance" In Boxing.
Roughly speaking boxing may be divided into three epochs denoting its development to the present high plans. These are the era of Figg who introduced bare fist fighting to supplant deadlier -weapons; the Sullivan-Corbett era with the arrival of Queenberry rules and the passing of London Prize Ring Rules; and the existing period of "frenzied finance" in the .promotion of glove contests. Tex Rickard, the Prince of Promoters" is the outstanding figure of the last named interval. It dates from l910 when the Texan, a direct throwback of Bret Harte's Argonaut types of early California gold-mining days put up $121,000 for Jeffries and Johnson at Reno. The sporting and even the financial world was "taken by the ears" so to speak at Rickard's financial boldness at that time.
Accustomed, now to Tex's big way of doing things comparatively little wonderment is manifested In his astounding offer of $127,000 to Willard and Dempsey. Likewise his refreshing businesslike methods of insuring the contest, principals and even himself with Lloyd's In London is taken as a matter of course. But wouldn't old-timers turn over in their graves if they could hear of the way things are done nowadays Imagine the mighty Heenan and Sayers battering each other with naked fists for more than two hours in a windswept field for a paltry 1,000. Or the same Tom Sayers beating Bill Perry "for $1,000 aside and a new belt." Even the great John L. Sullivan and James Corbett were only given a purse of $25,000, the boxers making the go worth the strife by adding a 20,000 stake.
Willards Place In Fistiana
It is possible to compare boxing and training tactics of the past with the present but not pugilists themselves. Willard's chief claim to fame, it appears to me, is his great size and strength combined with the ability to give and take punishment, particularly the latter. There are scores of former ring kings who base claim to lasting renown on the same grounds. Therefore it would be a sweeping statement to say that Willard is the greatest of these.
For instance, Charles Freemen, the first American champion was considerably taller and heavier than the present heavyweight title holder. His height was seven feet three inches and he scaled 333 pounds— a genuine giant to be sure. Looks as if he might have given Jess a rub had the burly Kansan been breathing in 1820 or thereabouts. As for Willard's ability to assimilate heavy blows it is doubtful if he excels Jim Jeffries in the latter's palmy days. Even previous to this we have the giant John Jackson back in 1778 who is said to have lifted ten
hundred weight and a quarter and written his name with eighty-four pounds suspended from his little finger. That is an exhibition of strength which might interest the present Colossus of the squared circle.
Jess proved that he could "take it" when Johnson dealt him a healthy beating almost up to the moment of the negro's defeat at Havana. Nevertheless it was nothing compared to the punishment administered to Jeffries by Bob Fitzsimmons when the latter made his heroic attempt to win back the title at San Francisco in 1902. The modern ring hasn't an instance of a man surviving; a thrashing such as Jeff received in that bout and finally bring down his tormentor with almost a single punch. And Willard, to my way of thinking will have to furnish more; startling proofs than his knockout of the aged and dissipated Johnson to demonstrate that he delivers a harder blow than Sullivan. Jeffries, or Fitzsimmons did in their prime. However, this is not meant as any particular disparagement of Willard as a fighter. It is merely an attempt to classify him in the certain rank of famous sluggers which his particular talents suggests. After all it is glory enough, probably, for Jess that he has risen to the top of his profession by defeating" the best men of his day. You can't ask much more than that from anyone.
The Phenomenal Challenger for the Title.
With Jack Dempsey, the sensational challenger in the forthcoming struggle the case is somewhat clearer. His pugilistic attainments are of a marked order. Never in the history of the ring has a boxer earned the right to championship competition by such an amazingly brilliant record. He appears capable of unlimbering a punch the effectiveness of which is comparable to the foremost of pugilism's dreaded punchers. Even Sullivan and Fitzsimmons, who featured their combats with displays of heavy smiting and quick finishes do not approach the astonishing performance of the Colorado terror.
Because of the amazing quickness with which he has disposed of one antagonist after another Dempsey has never been forced to take much punishment. Whether he can survive a beating such as Jeffries did with Fitz and recover to whip his man has yet to be demonstrated. There are those who even believe he is an overrated performer, personally, however, I do not agree with these critics. Dempsey by his deeds has proved himself one of the most formidable men that ever challenged for the title. He will fight himself and make Willard fight from start to finish.