N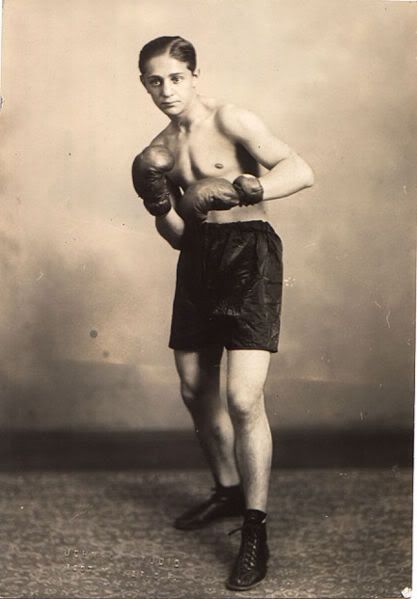 ame: Ruby Goldstein
Alias: Jewel of the Ghetto
Born: 1907-10-07
Died: 1984-04-23 (Age:76)
Nationality: US American
Hometown: New York, New York, USA
Boxing Record: click
Height: 5′ 4½″ / 164cm
Division: Welterweight
Manager: Hymie Cantor
Officiating Record: Judge
Officiating Record: Referee

From an Associated Press wire report of June 11, 1925: Ruby Goldstein was born at 409 Cherry Street, on the lower East Side of New York City, and was raised at 218 Henry Street. He graduated from Public School No. 147. He started his amateur boxing at the Educational Alliance Building on East Broadway when its Athletic Director Henry Cantor discovered him and became his manager. Goldstein posted a 19-0 (9 knockout) amateur record, which included knockouts over Jimmy Green in 1 round, Robert Lewis in 1 round, and Frank Rosen in 2 rounds.
According to a May 20, 1926 newspaper wire report, Goldstein's record was 42 bouts (25 KOs), with no losses (this is believed to be his combined 19-0 amateur record and 23-0 pro record at that time).
The Ring Record Book always listed Goldstein's professional record as 50-5 (34 knockouts). Goldstein himself, in an article written for the The Ring in the early 1960s, wrote that he had a unique record, "winning 50 and losing 5, all by knockout."
Goldstein enlisted in the United States Army 1942. A year later he became a licensed referee in New York and was a popular referee well into the 1960s. He received mixed reactions for his handling of the third Emile Griffith-Benny Paret title match on March 24, 1962. Paret was knocked out in 12 rounds and died on April 3rd of his injuries. Goldstein was criticized for not stopping the fight sooner, but the New York State Athletic Commission cleared him of any wrong-doing.
Syracuse Herald
5 June 1926
Folowers of Ruby Goldstein Hail Him as a Benny Leonard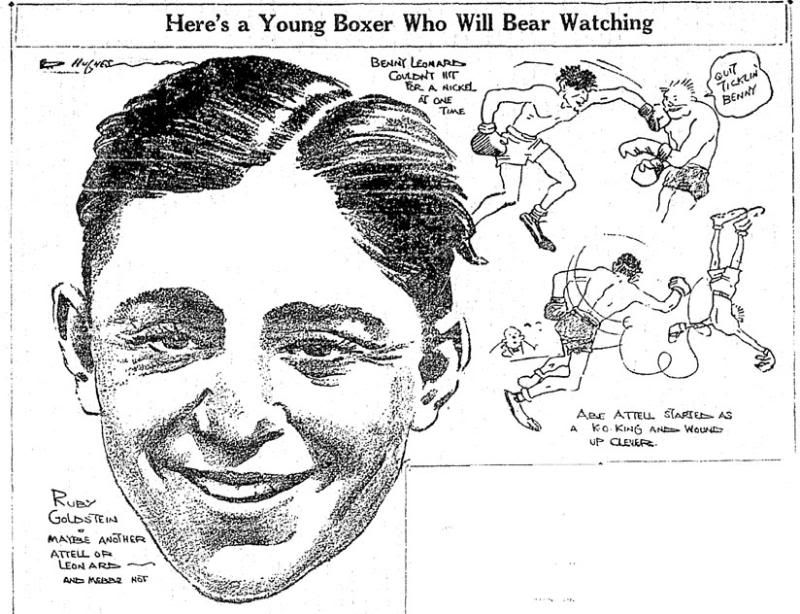 I s Goldstein headed for the lightweight pinnacle – or is he sooner or later to founder on Pugilistica's jagged coast. Young Goldstein is one of the most talked of "comers" that Gotham has housed in many a day. Ruby has a host of enthusiastic admirers , along with dispassionate , cold blooded analysts of ring form who are not so certain that Ruby is the phenomenon many herald him.
These latter explainthat Ruby has yet to face a real tough un, and that until he does no accurate line on his ability can be obtained. He's coming fast, and not been overmatched has done exceedingly well. His talents so far eclipse youngsters of similar experience that Godstein appears in the light of a second Benny Leonard. Though he is still but a boy, that is what the East side like to regard Ruby – a second Benny Leonard.
From this point on Goldstein is evidently going to pick the cream of his class, though his age still prohibits him from boxing more than six rounds. Goldstein may never attain the success that Leonard did , but at least he has made a more auspicious start. In twenty two bouts Ruby was won twelve by the KO route. He is not unusually clever, but can hit as well. That's where his "Grub Street days" surpass those of Leonard. Benny wasn't much of a hitter, when he was coming along. In fact it was several years before he discovered his knockout knack, and during that time he had twice been knocked out.
Goldstein Has Punch
Leonard however developed along normal lines. The mastery which he later exerted over his opponents was purchased in the long school of experience. The fact that he was no particular wonder in his early ring days is of paltry importance.
Goldstein's development from now on will be watched with curious interest.Will he more and more emphasize his boxing skill, or will he still continue to value the quick knockout triumph. Usually when a ringster starts with both of these assets one or the other is sacrificed, either partly or wholly.
The combination of a clever boxer and knockout hitter is not a common thing.
Only registered users can write comments.
Please login or register.
Powered by AkoComment 2.0!